We are gearing up for a summer full of outdoor fun, beaches, parks and so much more, including plenty of time in our own back yard.
What better way to spend summer days than playing in the sand? I found these awesome plans from Ana White and decided after making a bunk bed that this project will be a breeze. And guess what.. it pretty much was.
Get the plans here:
http://www.ana-white.com/2011/10/plans/sand-box-built-seats
Making the sandbox was so very easy, although making sure I had straight boards and buying each item on the list were two things I need to improve on… like 4 sets of exterior grade hinges… sets, in other words 8 hinges.
I used Deck Over on the wood. This stuff is supposed to last more than 10 years. We will see, but what I loved the most about it was the color options.
I am planning on putting a over over the sandbox too.. something like this: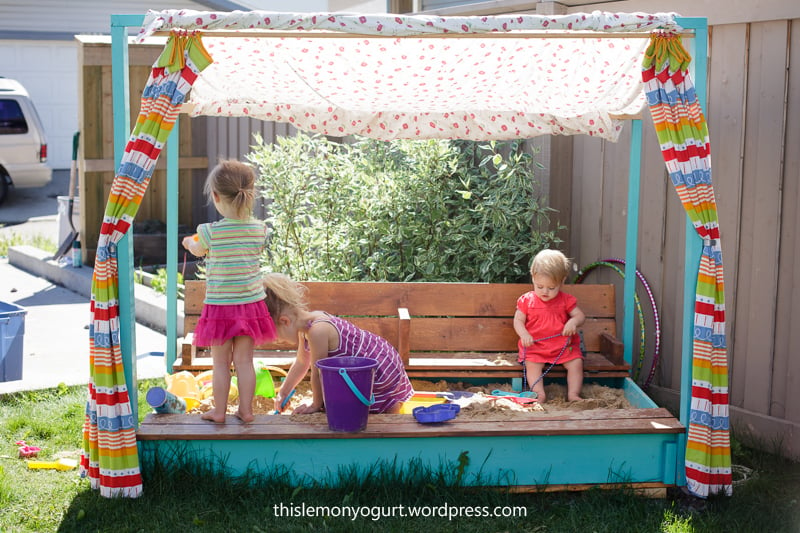 But I will be using outdoor or waterproof fabric so when it rains the kids can still play in the sandbox. I am also going to have the curtain a bit lower so the kids can use the sandbox as a stage/puppet theater.
I will post more pictures as we complete more steps. Thanks for reading!
Have you recently completed a DIY project? If so, let us know in the comments below. Would love to read about what you are doing this summer.
Amber is the proud homeschooling mother to four beautiful children, Damian (27), Rosaleigh (13), Carlyn (10), Naomi (7), and a wife to her loving husband, Chancellor. Her family also includes four cats.
She loves being a stay-at-home mom and feels blessed to be able to care for her children full-time and provide them with so many opportunities through Metro Detroit Mommy. In addition to Metro Detroit Mommy, Amber has a passion for hosting karaoke and trivia with L Sharp Productions.  She enjoys the Metro Detroit nightlife especially, singing, dancing and meeting new people.