June is a time for families like mine to celebrate our diversity and to appreciate those who have come before us and paved the way to equality. My children love meeting other "rainbow" families and seeing families like ours in advertisements, on TV and in books. As a school librarian, and the wife of a former bookstore manager, our home is FULL of books. Over the years, we have become very strategic of the books we purchase for our children. We try to find children's books that celebrate diversity. We want books with diverse characters, written by people of color or other marginalized people, and with some sort of positive message or written with the purpose to create meaningful dialogue.
Metro Detroit Mommy is a participant in the Amazon Services LLC Associates Program, an affiliate advertising program designed to provide a means for sites to earn advertising fees by advertising and linking to amazon.com.
These are our most recent favorite children's books that celebrate diversity.
From Amazon: While riding the subway home from the pool with his abuela one day, Julián notices three women spectacularly dressed up. Their hair billows in brilliant hues, their dresses end in fishtails, and their joy fills the train car. When Julián gets home, daydreaming of the magic he's seen, all he can think about is dressing up just like the ladies in his own fabulous mermaid costume: a butter-yellow curtain for his tail, the fronds of a potted fern for his headdress. But what will Abuela think about the mess he makes — and even more importantly, what will she think about how Julián sees himself? Mesmerizing and full of heart, Jessica Love's author-illustrator debut is a jubilant picture of self-love and a radiant celebration of individuality.
From Amazon: In a wildly whimsical, validating, and exuberant reflection of the LGBT community, This Day In June welcomes readers to experience a pride celebration and share in a day when we are all united. Also included is a Reading Guide chock-full of facts about LGBT history and culture, as well as a Note to Parents and Caregivers with information on how to talk to children about sexual orientation and gender identity in age-appropriate ways. This Day In June is an excellent tool for teaching respect, acceptance, and understanding of lesbian, gay, bisexual, and transgender people.
From Amazon: This bestselling modern classic features a princess who rescues a very snooty—and ungrateful—prince.
From Amazon: At the penguin house at the Central Park Zoo, two penguins named Roy and Silo were a little bit different from the others. But their desire for a family was the same. And with the help of a kindly zookeeper, Roy and Silo got the chance to welcome a baby penguin of their very own.
From Amazon: Red has a bright red label, but he is, in fact, blue. His teacher tries to help him be red (let's draw strawberries!), his mother tries to help him be red by sending him out on a playdate with a yellow classmate (go draw a nice orange!), and the scissors try to help him be red by snipping his label so that he has room to breathe. But Red is miserable. He just can't be red, no matter how hard he tries! Finally, a brand-new friend offers a brand-new perspective, and Red discovers what readers have known all along. He's blue! This funny, heartwarming, colorful picture book about finding the courage to be true to your inner self can be read on multiple levels, and it offers something for everyone.
From Amazon: Errol and his teddy, Thomas, are best friends who do everything together. Whether it's riding a bike, playing in the tree house, having a tea party, or all of the above, every day holds something fun to do.
One sunny day, Errol finds that Thomas is sad, even when they are playing in their favorite ways. Errol can't figure out why, until Thomas finally tells Errol what the teddy has been afraid to say: "In my heart, I've always known that I'm a girl teddy, not a boy teddy. I wish my name was Tilly, not Thomas." And Errol says, "I don't care if you're a girl teddy or a boy teddy! What matters is that you are my friend."
Introducing Teddy introduces the youngest readers to understanding gender identity and transition in an accessible and heart-warming story about being true to yourself and being a good friend.
From Amazon: Rhythmic text and illustrations with universal appeal show a toddler spending the day with its mommies. From hide-and-seek to dress-up, then bath time and a kiss goodnight, there's no limit to what a loving family can do together.
(Really any book by Todd Parr!)
From Amazon: The Family Book celebrates the love we feel for our families and all the different varieties they come in. Whether you have two moms or two dads, a big family or a small family, a clean family or a messy one, Todd Parr assures readers that no matter what kind of family you have, every family is special in its own unique way.

Parr's message about the importance of embracing our differences is delivered in a playful way. With his trademark bold, bright colors and silly scenes, this book will encourage children to ask questions about their own families. Perfect for young children just beginning to read, The Family Book is designed to encourage early literacy, enhance emotional development, celebrate multiculturalism, promote character growth, and strengthen family relationships.
From Amazon: Join Nellie and Gus and their family — plus all manner of other families — for a day at the zoo, where they see animal families galore! To top off their day, Nellie and Gus invite friends and relatives for a fun dinner at home. Accessible, humorous, and full of charming illustrations depicting families of many configurations, this engaging story interweaves conversations between the siblings and a matter-of-fact text, making it clear to every child that whoever makes up your family, it is perfectly normal — and totally wonderful.
From Amazon: No matter your size, shape, or pedigree–if you love each other, you are a family!

Moms, dads, sisters, brothers — and even Great Aunt Sue — appear in dozens of combinations, demonstrating all kinds of nontraditional families! Silly animals are cleverly depicted in framed portraits, and offer a warm celebration of family love.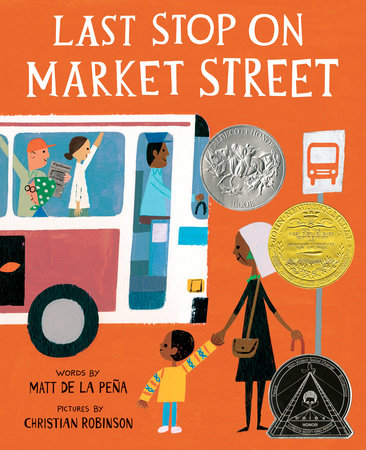 From Amazon: Every Sunday after church, CJ and his grandma ride the bus across town. But today, CJ wonders why they don't own a car like his friend Colby. Why doesn't he have an iPod like the boys on the bus? How come they always have to get off in the dirty part of town? Each question is met with an encouraging answer from grandma, who helps him see the beauty—and fun—in their routine and the world around them.

This energetic ride through a bustling city highlights the wonderful perspective only grandparent and grandchild can share, and comes to life through Matt de la Pena's vibrant text and Christian Robinson's radiant illustrations.
From Amazon:Just how many things can "one" be? One box of crayons. One batch of cookies. One world. One family.
From veteran picture book author George Shannon and up-and-coming artist Blanca Gomez comes a playful, interactive book that shows how a family can be big or small and comprised of people of a range of genders and races.
From Amazon: With the ease and simplicity of a nursery rhyme, this lively story delivers an important message of social acceptance to young readers. Themes associated with child development and social harmony, such as friendship, acceptance, self-esteem, and diversity are promoted in simple and straightforward prose. Vivid illustrations of children's activities for all cultures, such as swimming in the ocean, hugging, catching butterflies, and eating birthday cake are also provided. This delightful picture book offers a wonderful venue through which parents and teachers can discuss important social concepts with their children.Looking for more children's books that celebrate diversity? Find more ideas on Amazon.com.